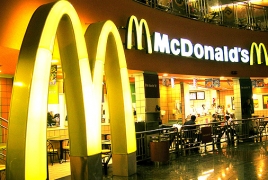 March 31, 2016 - 16:33 AMT
PanARMENIAN.Net - McDonald's Corp. said Thursday, March 31 it plans to open 1,500 new restaurants in China, South Korea and Hong Kong as it looks to faster-growing markets to help drive a global turnaround, the Associated Press reports.
McDonald's said it is looking for partners to help finance that expansion. The company said it also will give local managers more decision-making power to respond to Asian customers.
McDonald's, based in Oak Brook, Illinois, is overhauling its business under CEO Steve Easterbrook after acknowledging it failed to keep up with changing tastes. The total number of global diners visiting its restaurants fell last year.
"Asia represents a significant area of opportunity for McDonald's to blend our global quality standards with local insights and expertise from partners who share our vision and values," Easterbrook said in a statement. "These actions build on our turnaround efforts and will advance local ownership, enable faster decision-making and achieve restaurant growth."
McDonald's currently has 2,800 restaurants in China, South Korea and Hong Kong, most of them owned by the company instead of franchisees. The company deems those "high-growth markets," which it says have stronger expansion and franchising potential.
The company previously announced plans to identify strategic partners in two other Asian markets, Taiwan and Japan, AP says.
McDonald's says it plans to turn over more company-owned outlets to local owners, with a long-term goal of making 95 percent owned by franchisees.