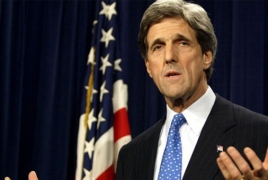 April 12, 2016 - 11:04 AMT
PanARMENIAN.Net - Washington is ready to "ratchet up" pressure on an increasingly aggressive North Korea, U.S. Secretary of State John Kerry said Monday, April 11 but remains open to negotiations if Pyongyang scraps its nuclear weapon development, AFP reports.
North Korea has taken a series of actions this year that have ramped up regional tensions, starting with its fourth underground nuclear test in January.
That was followed by the launch of a long-range rocket a month later -- which was widely seen as a disguised ballistic missile test.
In response the UN Security Council slapped its toughest sanctions yet on the secretive state.
"I would like to see a few measures we were not able to get into the (Security Council) resolution implemented, depending on what actions the North decides to take," Kerry told reporters after a Group of Seven foreign ministers' meeting in the Japanese city of Hiroshima.
On Saturday North Korea said it had successfully tested an engine designed for an inter-continental ballistic missile, which it claimed would "guarantee" an eventual nuclear strike on the U.S. mainland.
"So it is still possible we will ratchet up even more depending on the actions" of North Korea, Kerry said.
"But we have made it clear... we are prepared to negotiate a peace treaty" on the Korean peninsula.
"It all depends on the North making the decision that they will negotiate on denuclearisation. We are waiting for that opportunity."
The 1950-53 Korean War ended with an armistice and not a full peace treaty. The U.S. has long insisted that Pyongyang must denuclearise as a condition for talks on a peace pact.
The State Department confirmed in February that Pyongyang had reached out to Washington in a tentative bid to discuss a treaty, but said its January nuclear test had derailed the possible talks.