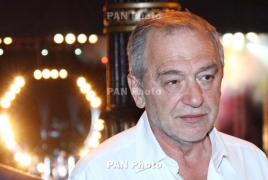 April 15, 2016 - 00:11 AMT
PanARMENIAN.Net - A Moscow court sentenced Armenian businessman Levon Hayrapetyan to four years in prison.
The court convicted Hayrapetyan and lawyer Sergey Antonov of embezzling $700,000 from former senator Igor Izmestyev, TASS reports.
The prosecutor had earlier demanded a seven-year term.
The Federal Security Service (FSB) of Russia arrested Hayrapetyan, one of the wealthiest representatives of the Armenian Diaspora in the world in July 2014.
The arrest took place as part of an ongoing investigation conducted by the Russian Investigatory Committee into the activities of one of the local criminal groups.
Hayrapetyan was detained by FSB workers at Domodedovo Airport in Moscow after he arrived in the Russian capital from Monaco.
The businessman was convoyed to the Investigatory Committee for questioning and it was there that he was officially notified about his arrest.
Hayrapetyan is reportedly suspected of connections to the criminal group led by Sergey Finagin, one of Russia's notorious crime figures.
Russian law enforcers also imposed a lien on his shares of $900,000 in the oil company Bashneft. Hayrapetyan refuses to plead guilty in money laundering case in which he is allegedly involved.
A testimony by Igor Izmestev, a former senator now serving a life sentence, is said to have led to Hayrapetyan's arrest. Hayrapetyan is known to have invested millions of dollars into developing Nagorno Karabakh's infrastructure and renovating the area's historical-cultural monuments. His charity included a mass wedding for hundreds of Karabakh couples in 2008 and sponsorship of the construction of a military college in Martakert.