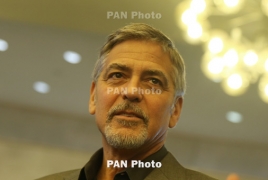 April 23, 2016 - 13:09 AMT
PanARMENIAN.Net - Prominent Hollywood actor George Clooney on Saturday, April 23 participated in the 2nd Global Forum Against the Crime of Genocide in Yerevan.
"This is my first visit to Armenia. I am glad to be here and participate in this event," Clooney said.
In response to Washington Post's David Ignatius' question on the motivation behind his visit to Armenia, Clooney said: "I was born in a time when people actively fought for their rights, and I was brought up in these principles. I try to use my fame to help people."
Characterizing genocides as massacres is not right, Clooney said.
"The ability to call things by their proper names will take time, but you can't deny what happened," he said.
World-famous actor, director and producer George Clooney arrived in Armenia on Friday, April 22 to attend the inaugural Aurora Prize event in Yerevan.
The prize was created by three prominent philanthropists of Armenian descent Vartan Gregorian, Noubar Afeyan and Ruben Vardanyan.
On behalf of the survivors of the Armenian Genocide and in gratitude to their saviors, an Aurora Prize Laureate will be honored each year with a $100,000 grant as well as the unique opportunity to continue the cycle of giving by nominating organizations that inspired their work for a $1,000,000 award. Recipients will be recognized for the exceptional impact their actions have made on preserving human life and advancing humanitarian causes.