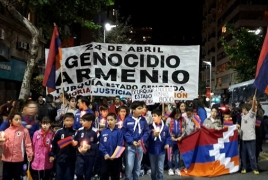 April 23, 2016 - 11:55 AMT
PanARMENIAN.Net - On Friday, April 22 night, the Armenian community of Uruguay rallied for the 101st anniversary of the Armenian Genocide, in a demonstration that had strong references to the current situation of Nagorno Karabakh, Prensa Armenia reports.
"We struggle against denial and lies. We have to stop perceiving the Armenian Genocide as something distant, as a fact that we only remember tearfully. That will only lead to oblivion. If the stories are not recounted, they die. The silence is the triumph of genocide," said the Young Armenians from Uruguay in their speech, after a rally of hundreds of people along the main avenue of the city, from Independence Square to the esplanade of the Municipality of Montevideo.
"Today we not only commemorate the Armenian Genocide, but condemn Azerbaijan's aggression against Nagorno Karabakh as well."
"At the same time, we condemn the shameful support that the current Turkish government of Erdogan gives to Azerbaijan, in what we consider a continuation of what the Ottoman Empire began 101 years ago," the group went on to say. On Monday, April 25, demonstrations will be staged in the Argentinean cities of Cordoba and Buenos Aires.