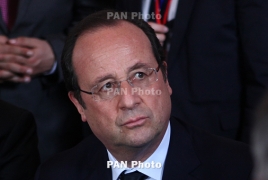 May 27, 2016 - 13:41 AMT
PanARMENIAN.Net - A defiant French President Francois Hollande vowed to "stand firm" over a controversial labor law, hitting back Friday, May 27 at unions which urged workers to step up a wave of industrial action, AFP reports.
The latest war of words between the government and unions came as France reels from fuel shortages, transport disruption and violent demonstrations, two weeks to the day that it begins hosting the Euro 2016 football championships.
"I will stand firm because I think it is a good reform," Hollande told reporters at a G7 summit in Japan.
He said the government's top priority was to ensure the "normal functioning of the economy" in the face of blockades of oil refineries and fuel depots that have left petrol pumps running dry.
While there were still long queues at petrol stations in some parts of the country, the fuel situation appeared to have eased early Friday, as the government dipped into its strategic reserves for a fifth consecutive day, Reuters says.
But the social unrest showed little sign of easing as unions urged workers to pile the pressure on Hollande's deeply unpopular Socialist government.
Representatives of all the main unions urged workers to "multiply and support" the strikes.
They said the government's response to the strikes and its "stubbornness" in not withdrawing the contested law was only "boosting the determination" of opponents to the legislation.
Hollande responded to the unions that dialogue was "always possible", but the government would not come to the negotiating table if threatened by "an ultimatum".