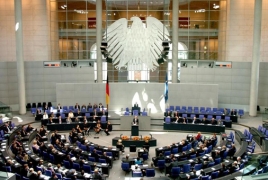 June 3, 2016 - 10:45 AMT
PanARMENIAN.Net - At least seven Bundestag members of Turkish descent have voted in favor of the resolution on the recognition of the Armenian Genocide, Ermenihaber.am reports.
The German Bundestag on Thursday, June 2 adopted a resolution on the recognition and the condemnation of the Armenian Genocide.
The vote was unanimous in supporting the resolution with just one MP voting against and another one abstaining.
Only Bettina Kudla from Chancellor Angela Merkel's Christian Democratic Union (CDU) voted against, while another MP, also from Merkel's party, refrained altogether.
Titled "Remembrance and commemoration of the Genocide of Armenians and other Christian minorities in the years 1915 and 1916," the resolution passed with support from all the parties in Parliament. It was put forward by Merkel's conservative bloc, their partners in the government, the Social Democrats, and the opposition Greens.
Merkel was not present with officials citing scheduling reasons. However, her spokeswoman Christiane Wirtz has made clear that the chancellor supported the motion.
1.5 million Armenians fell victim to the Genocide at the hands of the Ottoman Empire in early 20th century.