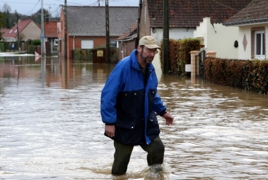 June 3, 2016 - 17:59 AMT
PanARMENIAN.Net - Paris' world-famous Louvre and Musee d'Orsay museums shut on Friday, June 3 to salvage valuable artworks from their basements, as the rain-swollen River Seine neared its highest level in three decades, AFP reports.
At least 14 people have been killed in floods that have wrought havoc in Europe after days of torrential rain, trapping people in their homes and forcing rescuers to row lifeboats down streets turned into rivers.
Authorities said the river could swell to "perhaps 6.50 metres in a worst-case scenario", comfortably beating the level reached during floods in 1982.
Persistently heavy rainfall across western and central Europe has swollen rivers and claimed victims from at least four countries.
Ten people have been killed in Germany and two in Romania, while a beekeeper died in Belgium while trying to protect his hives from the floods.
In France, a man on horseback drowned on Thursday after being swept away by a swollen river in Evry-Gregy-sur-Yerre, southeast of Paris.
In the United States, five soldiers based at Fort Hood in Texas died Thursday when their Army truck overturned at a creek crossing during flooding, officials said. Four others were missing.
Three soldiers were rescued after the Light Medium Tactical Vehicle was swept off a low-water crossing by rushing water and into the flooded Owl Creek, where the vehicle overturned around 11:30 a.m. local time. They were hospitalized in stable condition.