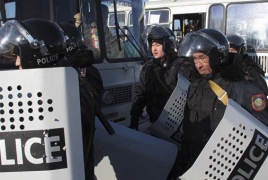 July 18, 2016 - 12:32 AMT
PanARMENIAN.Net - Gunmen killed at least two policemen in Kazakhstan's financial capital Almaty in three near-simultaneous attacks on Monday, July 18, security sources and witnesses said, according to Reuters.
The Interfax news agency, quoting a police source, said "a religious radical and probably a follower of non-traditional Islam" was shooting in central Almaty. The Interior Ministry said several policemen had been killed.
Police cordoned off several central streets in Almaty, including one near an office of the KNB security service, where shots were also heard.
The KNB said in a statement that unidentified gunmen had attacked a police station and a KNB office. The police said they had detained at least one suspected attacker, while another one remained at large, Reuters says.
The RIA news agency quoted a security source as saying several policemen had also been wounded.
A Reuters reporter saw a car that had been rammed by another vehicle in the same area where the detention had been reported to take place. The scene was cordoned off by police carrying assault rifles.
The KNB, successor to the Soviet-era KGB, said last month it had detained several members of a group planning "terrorist acts using improvised explosive devices", after a deadly attack in the northwestern town of Aktobe.
In that incident, about two dozen men described by the authorities as sympathizers of Islamic State, attacked gun stores and a national guard facility, killing seven people.
Security forces killed 18 attackers, some on the same day and some in the subsequent manhunt.