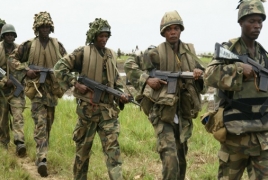 July 20, 2016 - 16:14 AMT
PanARMENIAN.Net - The Nigerian Army said its troops on Monday, July 18 killed 12 Boko Haram terrorists and rescued 22 hostages including women and children. It said however, four of its soldiers sustained injuries, while many of the terrorists escaped with gunshot injuries in several clearance operations in Borno State, Vanguard reported Wednesday.
Headquarters detailing the operations, said: "Troops of 7 Division Strike Group Team B (7 DSGB), attached to 21 Brigade, along with 4 Civilian JTF, carried out a clearance operation of suspected remnants of Boko Haram terrorists in Warpaya, Zenteleye, Mubarka, Jadawa and Yerwa villages. During the operations, they encountered and engaged elements of Boko Haram terrorists in Jadawa and Yerwa in which they killed 7 terrorists. Unfortunately 4 soldiers were wounded in action. The troops also recovered one Fabrique Nationale (FN) rifl, 2 motorcycles and 2 mobile phones.
"As the operations continued, the team also intercepted some of the Boko Haram terrorists with 75 rustled cows and 25 stolen sheep. While returning to base, the team was ambushed by suspected elements of Boko Haram terrorists. But the troops rose to the occasion and successfully cleared the ambush. They also encountered serious hardship because of bugging down of vehicles occasioned by marshy terrain.
"In a related development, troops of 114 Task Force Battalion of 28 Task Force Brigade, with some members of vigilante group, also carried out similar exercise at suspected Boko Haram terrorists hideouts at Mbale and Madube on Monday.
During the operation, the troops killed 5 Boko Haram terrorists, while some of them were believed to escape with gunshot wounds.