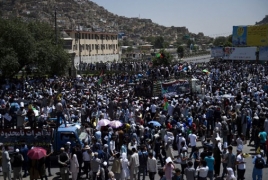 July 23, 2016 - 16:00 AMT
PanARMENIAN.Net - A powerful explosion on Saturday, July 23 ripped through crowds of minority Shiite Hazaras in Kabul who had gathered to protest over a power line, killing at least 61 people and leaving scores of others wounded, AFP reports.
The Islamic State group claimed the attack, an IS-linked agency said.
The scene of the blast was littered with charred bodies and dismembered limbs, with ambulances struggling to reach the scene as authorities had overnight blocked key intersections with stacked shipping containers to impede movement of the protesters.
Thousands of demonstrators had gathered to demand that a multi-million-dollar power line pass through their electricity-starved province of Bamiyan, one of the most deprived areas of Afghanistan with a large Hazara population.
"The horrific attack on a group of peaceful protestors in Kabul demonstrates the utter disregard that armed groups have for human life," Amnesty International said in a statement, according to AFP.
"Such attacks are a reminder that the conflict in Afghanistan is not winding down, as some believe, but escalating, with consequences for the human rights situation in the country that should alarm us all."