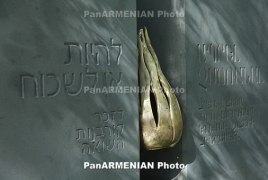 July 28, 2016 - 13:12 AMT
PanARMENIAN.Net - The deputy director of the Democratic National Committee opposed issuing a statement on Holocaust Remembrance Day earlier this year—because then the DNC might have to issue statements commemorating the mass murder in Armenia, Darfur and Rwanda, too, The Weekly Standard reports.
This disturbing episode, which has been exposed in the Wikileaks emails, began when then-DNC chair Debbie Wasserman Schultz asked her staff to prepare a public statement for Holocaust Remembrance Day this past May. Senior communications director Ryan Banfill forwarded Schulz's request to DNC Deputy Director Kate Houghton.
Houghton was plainly annoyed at the prospect of having to, as she put it, "do statements for every Jewish holiday." Banfill attempted to clarify for Houghton that the day in question is not simply one of many "Jewish holidays" but rather an occasion to commemorate genocide. He wrote back: "This is about remembering the Holocaust. Never forget."
But Houghton dug in her heels. "Yup… or Darfur or Armenia or Rwanda or Bosnia (which PS is where my husband served)," she replied. "Does she want us to do one for each other of those remembrance days as well?"