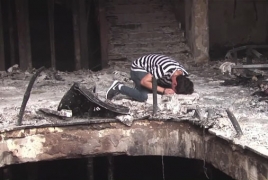 August 10, 2016 - 19:04 AMT
PanARMENIAN.Net - A fire tore through the maternity ward of one of Baghdad's largest hospitals Wednesday, August 10 killing at least 12 premature babies, medical and security officials said, according to AFP.
Jassem Lateef al-Hijami, from the Baghdad health directorate, told reporters only seven babies could be saved and were taken to another ward in the Iraqi capital.
Health ministry spokesman Ahmed al-Rudeini told AFP the blaze at the Yarmuk hospital in west Baghdad was started by an electrical fault just after midnight (2100 GMT Tuesday).
"Twenty-nine women patients who were in the same ward were evacuated to other hospitals," he said.
Security services sealed off the area as forensic teams searched the gutted ward and angry relatives massed outside, waiting for information from the authorities.
Charred incubators could be seen outside one of the entrances to the hospital, access to which was strictly controlled by the police.
The grief of the bereaved parents and relatives was compounded by the fact that the babies' young age and the effects of the fire made it very difficult to identify the bodies.
Umm Ahmed came to Yarmuk on Tuesday when a close relative of hers gave birth. The baby died in the inferno and the mother suffered burns, she said.
"I am looking for our child, they told me 'go find him in the fridge'," said the middle-aged woman.
"I found him in a small cardboard box but I'm not even sure if it's our child or a piece of sponge. It looks like charcoal," said the woman, wearing a black over-garment.
"I just want our child, somebody give him to me," she cried.