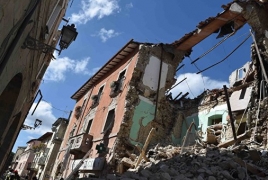 August 26, 2016 - 11:31 AMT
PanARMENIAN.Net - The number of people killed in the massive earthquake that shook central Italy on Wednesday, August 24 rose to 267 on Friday and nearly 400 injured people were in hospitals, the Civil Protection department said, according to Reuters.
It said aftershocks were continuing in the area. More than 900 aftershocks have been registered since the quake struck, 57 of them since midnight.
Residents wakened before dawn by the temblor emerged from their crumbled homes to find what they described as apocalyptic scenes "like Dante's Inferno," with entire blocks of buildings turned into piles of sand and rock, thick dust choking the air and a putrid smell of gas.
"The town isn't here anymore," said Sergio Pirozzi, the mayor of the hardest-hit town, Amatrice. "I believe the toll will rise."
The magnitude 6.2 quake struck at 3:36 a.m. on Wednesday and was felt across a broad swath of central Italy, including Rome, where residents woke to a long swaying followed by aftershocks. The temblor shook the Lazio region and Umbria and Le Marche on the Adriatic coast, a highly seismic area that has witnessed major quakes in the past and continued to shake with aftershocks.