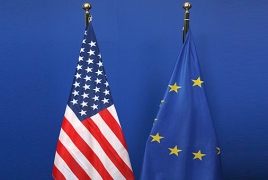 August 30, 2016 - 10:55 AMT
PanARMENIAN.Net - France's trade minister has called for an end to the current round of talks between the EU and U.S. over an ambitious trade deal, throwing further doubt on the viability of one of the world's largest ever proposed free trade accords, the Financial Times reports.
Matthias Fekl, France's minister for foreign trade, said Paris wanted the end of negotiations over the deal known as the Transatlantic Trade and Investment Partnership (TTIP) in a tweet on Tuesday, August 30 morning.
In comments to French radio station RMC, Fekl said a new round of talks should be started, with the current set, which have been going on for three years, terminated.
Fekl's comments come after Sigmar Gabriel, vice chancellor of Germany and head of its second largest parliamentary party, said the trade talks had "failed".
"The negotiations with the USA have de facto failed because we Europeans did not want to subject ourselves to American demands," said Gabriel, leader of the German SDP.