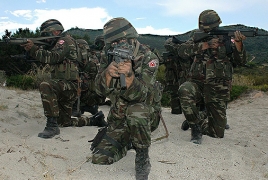 September 3, 2016 - 12:01 AMT
PanARMENIAN.Net - Turkish troops have reportedly killed a teenager and injured dozens of protesters after firing into Syrian Kurdistan. The people gathered were demonstrating against the building of a border wall on their land, Deutche Welle reports.
The Syrian Observatory for Human Rights and Kurdish officials report that Turkish forces opened fire and lobbed tear gas across the border to break up a protest in Kobani against a new wall, killing a 17-year-old and wounding up to 80 people. Several protesters suffered breathing difficulties from the tear gas.
"A child was killed, and more than 80 civilians were wounded in the shooting," Anwar Muslim, an official in Kobani, told the German news agency DPA on Friday. "They were unarmed civilians who were protesting after they saw that the Turkish army had moved 25 meters (82.5 feet) into their land," he added. "We have no problem with them building a cement wall inside their land. But they are breaching our sovereignty."
Military sources told news agencies that they had taken defensive measures after some protesters threw rocks at construction workers, and denied having killed anyone. There was no immediate comment from officials in Ankara.
Construction on the wall began in 2014, but the protests against it have intensified over the past week.