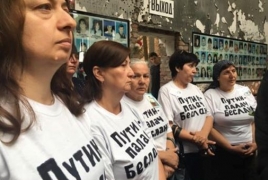 September 3, 2016 - 16:36 AMT
PanARMENIAN.Net - Freedom House issued a statement calling on the international community to demand that Russia drops charges against Beslan mothers.
The statement was made public in response to the detention of members of the NGO Voice of Beslan on the 12th anniversary of the school hostage crisis in Beslan, North Ossetia.
"The victims of the Beslan tragedy should be allowed to commemorate the loss of their loved ones 12 years ago during the botched rescue operation ordered by the Russian government, carried out with total disregard for the safety of the hostages and resulted in hundreds of deaths", said Daniel Calingaert, executive vice president.
"The victims and their families are yet to find justice, and now are being prosecuted for resisting government efforts to erase memory of the events. Freedom House calls on the international community to demand that the Russian government drops charges against Ella Kesayeva, Emma Betrozova, Zhanna Tsirikhova, Svetlana Margieva, Emilia Bzarova."