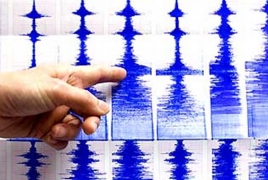 September 3, 2016 - 16:56 AMT
PanARMENIAN.Net - A massive earthquake has rocked at least four U.S. states on a national holiday weekend Saturday, September 3, UKNews24 reports.
The earthquake measured 5.6 on the Richter scale.
People were just waking up for Labour Day weekend when the quake struck.
Shocked sleepy-eyed Twitter users were quick to mention the earthquake online.
The earthquake was felt by a huge number of people throughout central U.S.
Twitter users said they could feel the shaking as far away as Chicago which is 800 miles away.
In February there was a 5.1 earthquake measured in Oklahoma, the third largest ever felt in Kansas City.
Experts have predicted that a massive worldwide earthquake is coming.