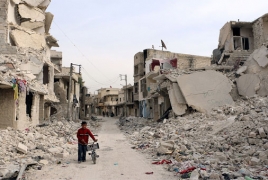 September 8, 2016 - 10:10 AMT
PanARMENIAN.Net - An Iraqi Shi'ite militia said on Wednesday, September 7 it had dispatched more than 1,000 fighters to the frontline in neighboring Syria, escalating foreign involvement in the battle for Aleppo, the biggest prize in five years of relentless civil war, Reuters reports.
New footage emerged of civilians choking in the aftermath of an apparent attack with poison chlorine gas on an opposition-held district as the battle for Syria's biggest city approaches what could be a decisive phase.
Aleppo has been divided for years into government and rebel sectors, but President Bashar al-Assad's army has put the opposition areas under siege and now hopes to capture the whole city in what would be a devastating blow to his enemies.
Government forces are backed by Russian air power and battle-hardened Lebanese and Iraqi Shi'ite militia fighters under the apparent oversight of an Iranian general.
The arrival of reinforcements from Iraq, where Shi'ite militia are fighting their own war against the Islamic State group, shows how the Syrian and Iraqi conflicts have leapt borders, to become a broad sectarian war across the Middle East.
Hashim al-Moussawi, a spokesman for the Iraqi Shi'ite militia Harakat al-Nujab, said its fighters would reinforce areas captured from the rebels in southern Aleppo.
The militia's Twitter account showed pictures of its fighters at the Syrian front with Iranian Major General Qassem Soleimani, commander of foreign operations for the elite Revolutionary Guards, who has led operations by Tehran's allies in both Syria and Iraq.
Rebel commanders said they are preparing to launch their own counter-offensive aimed at breaking the siege of the city, which was reimposed in recent days following weeks of intense fighting around a military complex.