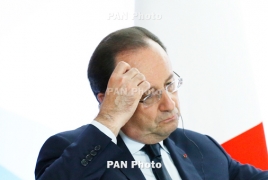 September 8, 2016 - 16:23 AMT
PanARMENIAN.Net - France's President Francois Hollande said he would not let France's image deteriorate "over the coming months or coming years" in a speech on Thursday, September 8, his clearest indication yet that he intends to run for a second term in office next year, Reuters said.
In an hour long speech on "democracy and terrorism", Hollande took a swipe at his right-wing rivals, saying their hardline reactions to a wave of militant attacks demonstrated an intent to destroy France's social model.
"I won't let the image of France, the influence of France deteriorate over the coming months or coming years," the president said.
Hollande has come under aggressive attack from right-wing opponents, and in particular former President Nicolas Sarkozy, over his security track record.
The divisive and abrasive Sarkozy, who announced his candidacy for April's presidential poll late last month, has said France needs to be "merciless" in its response to the attacks and that there was no place for "legal niceties" in the fight against terrorism.
Without mentioning Sarkozy by name, Hollande said: "Constitutional principles are not legal niceties."
"Is the freedom to come and go a legal nicety? Is freedom of expression a legal nicety? Is freedom to worship a legal nicety? Is being presumed innocent - something that's useful when defending one's self a legal nicety?" Hollande said in a combative speech to warm applause at the left-wing Jean Jaures Foundation think-tank.
Hollande is France's most unpopular leader in modern times and is struggling to regain credibility both on the fight against terrorism and on the economy, leaving the president in a weak position as he contemplates mounting a bid for a second term next year.