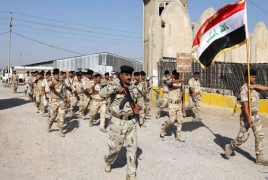 September 20, 2016 - 18:20 AMT
PanARMENIAN.Net - Iraqi forces launched an operation on Tuesday, September 20 to retake the northern town of Shirqat from Islamic State, a stepping stone in their campaign to recapture the jihadists' stronghold of Mosul before the end of the year, Reuters reports.
Shirqat, which lies on the Tigris River 100 km south of Mosul, has been surrounded by Iraqi troops and Iranian-backed Shi'ite Muslim militias allied to the government.
Tens of thousands of civilians are thought to be trapped there. Officials have warned for months of a humanitarian disaster inside, where residents living under Islamic State's harsh rule say food supplies have dwindled and prices soared.
Iraqi troops, backed by local police and Sunni Muslim tribal fighters, took up positions along five axes on Tuesday and advanced through five villages but by midday were still around 13 km from the town center, said the mayor and a source in the Salahuddin Operations Command, which oversees military operations in the area.
They said there was little resistance so far, aside from some bombs planted along the road. State media said the security forces had disabled several car bombs and snipers.
Television footage of an airstrike near a residential compound south of Shirqat showed plumes of light gray smoke emanating from a sparsely populated valley.
Iraqi forces are also moving to retake two areas in the western province of Anbar, Prime Minister Haider al-Abadi said in an televised message from New York, where he is attending the United Nations General Assembly.
"These operations pave the way for cleansing every inch of Iraqi land and, God willing, its end will be the liberation of Mosul city, ... the liberation of all Iraqi lands and the end of Daesh," he said, using an Arabic acronym for Islamic State.
He has pledged repeatedly to retake Mosul by year's end, and Iraqi commanders have indicated the push could begin by late October, though doubts remain that the necessary troops will be ready.