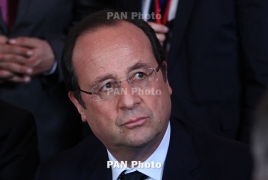 September 24, 2016 - 16:24 AMT
PanARMENIAN.Net - French President Francois Hollande said on Saturday, September 24 that thousands of migrants living in the shanty town near Calais known as the "Jungle" would be dispersed across the country, in an attempt to quell criticism of his handling of Europe's migrant crisis, Reuters reports.
About 9,000 places will be made available at "reception and orientation centers" for migrants living in the camp which is near the port city in northern France, Hollande said on i-Tele, after visiting a facility in Tours, about 240 km south-west of Paris.
The migrants will be split into groups of 40 to 50 people for a limited period of three to four months, Hollande said. Those who fit the asylum criteria will be allowed to stay in France, while those who do not will be deported, he said.
"There should be no camp in France," the French president said, adding that the goal was to dismantle it completely.
The squalid camp, which Hollande is to visit on Monday, has become a symbol of the migrant crisis in France at a time when immigration is seen as a key theme in next year's presidential election.
Migrants from the camp regularly clash with the police as they try to make their way to Britain via the port, Reuters says.