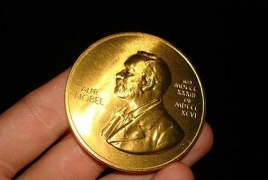 October 4, 2016 - 13:59 AMT
PanARMENIAN.Net - David Thouless, Duncan Haldane and Michael Kosterlitz won the Nobel prize in physics on Tuesday, October 4, The Guardian reports.
The prize has gone to three physicists working in the field of condensed matter physics.
They discovered totally unexpected behaviours of solid materials - and came up with a mathematical framework (in the field of topology) to explain these weird properties. The discoveries have paved the way for designing new materials with all sorts of novel properties.
The Nobel Assembly speaker brought out a cinnamon bun, a bagel and pretzel to explain what topology means. He said that if you are a topologist there is only one interesting way in which these pastries differ - the bun has no hole, the bagel has one and the pretzel has two.