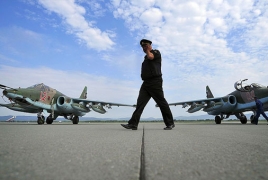 October 12, 2016 - 13:13 AMT
PanARMENIAN.Net - Russian senators have ratified an agreement that allows permanent deployment of the country's air force in Syria, RT reports.
One hundred and fifty-eight Russian senators thrust their support behind the permanent air force at the Syrian base in Khmeimim during the Wednesday, October 12 vote, with one senator abstaining.
"Russia's Air Force group will be located in Syria only for defense purposes and does not target third countries," Viktor Ozerov, chair of the Defense Committee in the Federation Council, told RIA Novosti after the vote.
Ozerov added the decision marks Russia's "substantial input" into the international effort to stabilize the situation in Syria.
Last Friday the State Duma voted unanimously to ratify the treaty.
The treaty was signed on August 26, 2015 in Damascus and provides the legal grounds for the ongoing Russian operation in Syria.
According to the document, the Russian Air Force will act on the orders of its commander and in compliance with the Syrian authorities.
"Weapons, ammunition, equipment and materials necessary to perform the tasks of the Russian aviation group to ensure the safety and life of its personnel will be imported into Syria free of charge," the documents says.
It adds that Russian personnel will be guaranteed immunity, as it would be the case with a diplomatic mission.
The official start of the Russian military operation in the Syrian Arab Republic was September 20, 2015, although construction works and relocation of military hardware to the Khmeimim airbase were apparent weeks before that.
The operation is logistically the most difficult that Russia has conducted in modern history, with dozens of ships transporting supplies across the Black Sea and the Mediterranean.
Russia deployed its warplanes and support troops to Syria in response to a request by Damascus. The stated goal was to prevent terrorist forces from overwhelming the Syrian Army, which would likely have resulted in massive purges of ethnic and religious minorities and turned the entire country into a hotbed of terrorism, potentially threatening Russia.