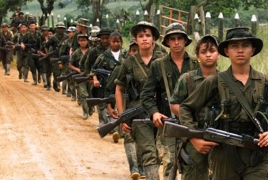 October 13, 2016 - 16:47 AMT
PanARMENIAN.Net - Thousands of Colombians have taken part in marches to demand that a peace deal signed by the government and Farc rebels be upheld, according to BBC News.
In the capital, Bogota, families of victims were given white flowers by well-wishers to symbolise peace.
The agreement, reached after years of negotiation, was rejected by a slim majority in a national referendum earlier this month.
Campaigners for the "No" vote have demanded a series of changes.
Farc leader Timoleon Rodriguez, better known as Timochenko, said on Wednesday, October 12 he was confident the deal could be revived although he said he would be reluctant to re-negotiate some elements of the accord.
In a show of support for the agreement, thousands of students, farmers and indigenous leaders congregated in front of congress in Bogota.
"All Colombians must work on building peace," said Carmenza Pinto, 64, who was displaced by the war.
"We must strive for a better future and forgiveness is the best example we can give."
Speaking earlier, Timochenko said he had held several meetings with government negotiators in the Cuban capital, Havana, to try to find a way around the impasse.
He said he was confident the deal could be resuscitated.