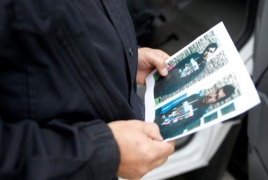 October 15, 2016 - 11:26 AMT
PanARMENIAN.Net - Berlin bomb suspect Jaber Albakr showed signs of radicalization in Germany, posting jihadi videos online before traveling to the Islamist-controled Syrian city of Idlib earlier this year, his brother told Reuters, the news agency said.
Alaa Albakr told Reuters by phone that his brother said he went to Syria to volunteer with emergency rescue workers, but Alaa believes he was radicalized by imams in Berlin who "brainwashed him" into returning to his country for jihad.
"This is why we believe he returned to Syria," Alaa told Reuters by phone from the village of Sa'sa' southwest of Damascus.
"He went to Turkey seven months ago and spent two months in Syria. He called us and told us 'I'm volunteering with the White Helmets (emergency teams) in Idlib'."
Pressed to say if his brother had joined Islamist militant groups in Syria, Alaa Albakr said he could neither confirm nor deny if that was the case.
Idlib, a city near the border with Turkey, and the province by the same name, is a stronghold of rebel groups including Jabhat Fateh al-Sham, formerly the al Qaeda-linked Nusra Front.
Alaa said Jaber, who had refugee status in Germany and committed suicide after being arrested on suspicion of planning a bomb attack at a Berlin airport, was a devout Muslim who had wanted to attend university.
Reuters was able to identify Alaa Albakr through a picture he posted on Facebook showing his brother posing in front of a row of houses in what is clearly Germany, along with a brief obituary.
Jaber Albakr had a Facebook account under the nickname Jaber Abou Hayyan. The brothers' accounts are linked.