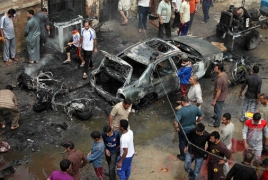 October 15, 2016 - 16:21 AMT
PanARMENIAN.Net - A suicide bombing claimed by the Islamic State group killed at least 32 people in Baghdad Saturday, October 15, the deadliest single attack to hit the Iraqi capital in over three months, AFP said.
The blast is the latest in a series of IS-claimed attacks targeting members of Iraq's Shiite majority in Baghdad that have left more than 60 people dead in less than three weeks.
The latest attack, which hit the Shiite-majority Shaab area of north Baghdad, also wounded at least 36 people.
Officials gave two different accounts of the attack, saying the bomber targeted either a funeral tent or one at which Shiite Muslims distribute food and drinks on the occasion of the annual religious commemorations.
IS issued an online statement claiming the bombing and confirming the latter account of the attack, but a witness at the scene said the bomber had targeted a funeral tent, entering and blowing himself up as lunch was being served.
"I saw with my eyes 20 martyrs on the ground," the witness said, according to AFP.
Sunni extremist group IS considers Shiites to be heretics, and frequently carries out suicide bombings and other attacks against them in Baghdad and elsewhere in the country.
The Saturday bombing is the deadliest to hit the Iraqi capital since early July, when a suicide bombing in central Baghdad set crowded shopping centres ablaze, killing more than 300 people.
IS has claimed several recent bombings targeting Shiites in Baghdad, including one on October 9 that killed at least five people.