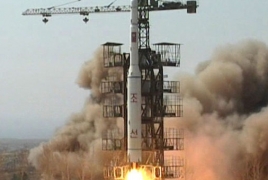 October 18, 2016 - 09:29 AMT
PanARMENIAN.Net - In spite of the apparent failure of another North Korean missile test at the weekend, the country's aggressive testing schedule could see its Musudan intermediate ballistic missile entering operational service sometime next year - much sooner than expected, a leading U.S. expert said on Monday, October 17, according to Reuters.
The U.S. military said on Saturday it had detected a failed launch of a Musudan, the latest in a series in violation of United Nations resolutions.
The U.S. Strategic Command said the missile failed in a launch near North Korea's northwestern city of Kusong. South Korea's military said the missile failed immediately after launch, but neither it nor the Pentagon suggested reasons.
The Musudan has range of some 3,000 km (1,860 miles), posing a threat to South Korea and Japan, and possibly the U.S. territory of Guam. Pyongyang claims that it has succeeded in miniaturizing a nuclear warhead that can be mounted on a missile, but this have never been independently verified.
John Schilling, an aerospace engineer specializing in rocket propulsion, said it was noteworthy that North Korea had launched the missile from its west coast, rather than from its purpose-built test facility.
"Moving to a roadside near Kusong is like taking the training wheels off the bicycle, seeing if you really have mastered something new," he wrote on the 38 North website that monitors North Korea.
Schilling said the move showed that in spite of only one successful launch to show for seven attempts this year, North Korea was not simply repeating old failures.
"They are continuing with an aggressive test schedule that involves, at least this time, demonstrating new operational capabilities. That increases the probability of individual tests failing, but it means they will learn more with each test," he wrote.
"If they continue at this rate, the Musudan intermediate -range ballistic missile could enter operational service sometime next year - much sooner than had previously been expected," Schilling said
The latest test comes ahead of a meeting on Wednesday in Washington of U.S., Japanese and South Korean defense and foreign ministers expected to focus on North Korea's missile and nuclear programs.
The top U.S. diplomat for East Asia said last month Washington would speed up deployment of the U.S. Terminal High Altitude Area Defense (THAAD) anti-missile system to South Korea given the pace of North Korea's missile tests.
Japanese government sources told Reuters Japan may accelerate around $1 billion of planned spending to upgrade its ballistic missile defenses.