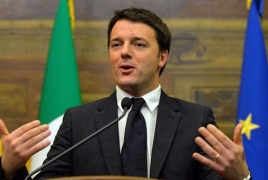 October 18, 2016 - 10:22 AMT
PanARMENIAN.Net - Italian Prime Minister Matteo Renzi heads to the United States on Monday, Oct. 17 for a high-profile visit that he hopes will boost his flagging campaign for a referendum on constitutional reform, Reuters said.
He will be guest of honor on Tuesday at what looks certain to be U.S. President Barack Obama's farewell state dinner, a star-studded affair that will serve as a stamp of approval from Washington for Renzi's reform efforts.
"We didn't pick the date for the dinner, but it comes at a very welcome time and clearly shows that Renzi has the support of the world's most powerful leader," said a senior Italian government official, who declined to be named.
Italians will vote on Dec. 4 on the constitutional overhaul, which the center-left prime minister says will bring greater political stability to the country by curbing the powers of the upper house Senate and streamlining the lawmaking process.
Renzi has said in the past that he will resign if he loses the ballot, but in recent weeks he has declined to repeat the pledge as a slew of opinion polls have suggested he will not prevail.
The U.S. ambassador in Rome has already spoken out in favor of the reform proposals, drawing the ire of opponents who denounced his comments as unwanted foreign interference. Obama might not speak out so openly, but his support will be clear.
"I think the message Obama wants to send is that he has a lot of respect for Renzi. This cannot hurt the prime minister's standing at home ahead of the referendum," said Franco Pavoncello, the president of John Cabot University in Rome.