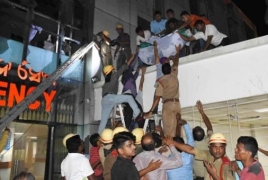 October 18, 2016 - 10:42 AMT
PanARMENIAN.Net - At least 20 people have died after a fire broke out in a hospital in eastern India, local police say, according to BBC News.
They say the fire started in an intensive care unit (ICU) of the SUM hospital, a private facility in the city of Bhubaneswar in Orissa state.
Dozens of patients were taken to other medical facilities in the city.
About 120 firefighters were mobilised to tackle the blaze, which was later brought under control. PM Narendra Modi said he was "anguished" by the fire.
Eyewitnesses and hospital sources said the fire, suspected to have been caused by an electrical short circuit, was first spotted in the ICU of the medicine ward before spreading to the dialysis ward next door.
Most of the victims reportedly died from smoke inhalation.
Many of the injured are in a critical condition. Earlier reports had put the death toll at 23.
In 2011, 89 people died in a fire that broke out in a hospital in the eastern city of Kolkata.