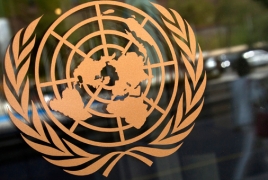 November 1, 2016 - 10:38 AMT
PanARMENIAN.Net - The UN Security Council agreed Monday, October 31 to press on with the deployment of a new UN mission for Colombia that will monitor a ceasefire until a final peace deal is reached, AFP reports.
The council endorsed recommendations from UN Secretary-General Ban Ki-moon to deploy 400 observers in Colombia after President Juan Manuel Santos extended the ceasefire with FARC rebels until December 31.
The government signed a historic peace deal with the Revolutionary Armed Forces of Colombia (FARC) on September 26 to end decades of conflict, but in a shock move, voters rejected the deal in a referendum.
With 152 observers already on the ground, Ban told council members in a letter that it was important to "quickly ramp up the mission's capacity" to get to work on truce monitoring.
Under the peace deal, the UN mission was to oversee the disarming of rebels but its tasks for now will be limited to the ceasefire monitoring.
Ban said the mission can accommodate immediately another 68 observers and noted that support from Latin American and Caribbean countries was critical to build up the monitoring force.
Both the government and the FARC had requested that the UN mission be authorized to verify the ceasefire signed on October 13.
Ban argued in the letter sent last week that the mission is now more important than ever.
"Its presence helps to foster popular confidence that, however complex the ongoing political dialogue may be, a point of no return has been reached in the search for peace in Colombia," he wrote in the letter obtained by AFP.
Over the weekend, Santos said he was hoping for a peace deal by Christmas and warned that any further delay could make the peace process "explode."