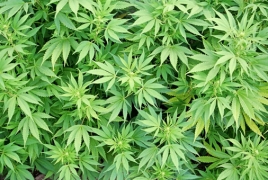 November 9, 2016 - 10:29 AMT
PanARMENIAN.Net - California and Massachusetts voted to legalize the recreational use of marijuana, giving a huge boost to the campaign to allow pot nationwide. Seven more states also voted on marijuana measures, while others voted on gun control and capital punishment, the Associated Press reports.
In Nebraska, voters reinstated the death penalty, reversing the Legislature's decision last year to repeal capital punishment. Nebraska has not executed an inmate since 1997; 10 men currently sit on death row.
Colorado voters approved a measure that will allow physicians to assist a terminally ill person in dying. That's already a practice in five other states. Coloradans defeated a proposal that would have set up the nation's first universal health care system.
In all, there were more than 150 measures appearing on statewide ballots. California led the pack with 17 ballot questions, including one that would require actors in porn movies to wear condoms during filming of sexual intercourse. Another would ban single-use plastic grocery bags.
Five states, including Arizona, Maine and Nevada, considered whether to legalize the recreational use of marijuana. The results were hailed as historic by legalization activists, given that California is the most populous state. Massachusetts became the first state east of the Rockies to join the movement.
Voters in Arkansas, Florida and North Dakota approved measures allowing marijuana use for medical purposes. Montanans voted on whether to ease restrictions on an existing medical marijuana law.
Florida, where the pot measure was backed by 71 percent of the voters, and Arkansas became the first states in the South with full-scale medical marijuana programs, which exist in 25 other states.
Collectively, it was the closest the U.S. has ever come to a national referendum on marijuana, which remains prohibited under federal law.
"These votes send a clear message to federal officials that it's time to stop arresting and incarcerating marijuana users," said Rob Kampia, executive director of the pro-legalization Marijuana Policy Project, AP reports.
If "yes" votes prevailed across the board, more than 23 percent of the U.S. population will live in states where recreational pot is legal. The jurisdictions where that's already the case — Alaska, Colorado, Oregon, Washington state and the District of Columbia — have less than 6 percent of the population.
Another hot-button issue — gun control — was on the ballot in four states, including California, which already has some of the nation's toughest gun-related laws. Proposition 63 would outlaw possession of large-capacity ammunition magazines, require permits to buy ammunition and extend California's unique program that allows authorities to seize firearms from owners who bought guns legally but are no longer allowed to own them.
Washington state approved a ballot measure that will allow judges to issue orders temporarily seizing guns from individuals who are deemed a threat.
In Maine and Nevada, a group founded by former New York City Mayor Michael Bloomberg spent millions promoting ballot measures that would require background checks on nearly all gun sales and transfers. Supporters say the changes would close gaps in the federal system that allow felons, domestic abusers and the mentally ill to buy firearms from private sellers at gun shows and online without a background check.
Nebraska was one of three states voting on capital punishment. California had two competing measures on its ballot, one repealing its rarely used death penalty and the other speeding up appeals so convicted murderers are actually executed.
Oklahoma residents approved a measure to make it harder to abolish capital punishment. It seeks to ensure the state has a way to execute prisoners even if a given method is blocked.