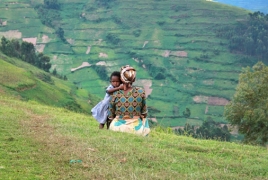 November 21, 2016 - 11:03 AMT
PanARMENIAN.Net - The Catholic Church in Rwanda apologized Sunday, November 20 for the church's role in the 1994 genocide, in which more than 800,000 ethnic Tutsis and moderate Hutus were massacred. The church said in a statement issued by the Conference of Catholic Bishops that it regretted the actions of those who participated in the massacre, IBTimes reports.
"We apologize for all the wrongs the church committed. We apologize on behalf of all Christians for all forms of wrongs we committed. We regret that church members violated (their) oath of allegiance to God's commandments," the statement read, adding that church members planned, aided and executed the genocide.
The church had so far not officially admitted the roles of its members in the deadly massacre — which was sparked by a contentious plane crash that killed the then-President Juvénal Habyarimana.
The church's statement is seen as a positive development in Rwanda's efforts at reconciliation.
"Forgive us for the crime of hate in the country to the extent of also hating our colleagues because of their ethnicity. We didn't show that we are one family but instead killed each other," the statement said.
Bishop Phillipe Rukamba, spokesman for the Catholic Church in Rwanda, said the statement was timed to coincide with the formal end Sunday of the Holy Year of Mercy declared by Pope Francis to encourage greater reconciliation and forgiveness in his church and in the world.
Jean-Damascène Bizimana, the executive secretary for the National Commission for the Fight against Genocide, has welcomed the church's move, IBTimes says.
"That the whole clergy sat down and apologised together for the role played in the genocide is a positive move; it shows their position and makes it clear for some who questioned the church's position on genocide. We also ask that all church members who committed genocide come up and apologise, there are priests and nuns who were accused of genocide and we ask that they apologise too," he said.