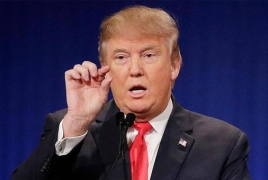 November 28, 2016 - 11:29 AMT
PanARMENIAN.Net - President-elect Donald Trump made unsubstantiated claims of serious US voter fraud and said "millions of people" had cast their ballots illegally, offering no evidence for the assertions he put forth on Twitter, AFP reports.
Trump's shock path to the White House saw him fall short of his Democratic rival Hillary Clinton in the popular vote -- she carried the election by 2.2 million ballots -- but win the all-important Electoral College count, which decides the US presidency.
The Republican billionaire's latest statements, in which he said he would have won the popular vote were it not for the "millions of people who voted illegally," came as steps are being taken towards recounting votes in the state of Wisconsin, which Trump won.
Trump and his aides have pushed back hard against that recount, with the president-elect letting loose a series of early-morning tweets in which he quoted Clinton about the need to respect the electoral process.
But by the end of the day, Trump was alleging on Twitter that: "In addition to winning the Electoral College in a landslide, I won the popular vote if you deduct the millions of people who voted illegally."
Although Trump had warned before the election that the result might be "rigged," he had offered no such complaint after his unexpected November 8 victory -- until now.
Back in New York late Sunday after spending the Thanksgiving holiday at his Florida Mar-a-Lago resort with his family, Trump again took to Twitter, alleging that voter fraud had occurred in several states.
"Serious voter fraud in Virginia, New Hampshire and California - so why isn't the media reporting on this? Serious bias - big problem!" Trump posted.
Trump and his aides have offered no evidence concerning the claims, nor did Trump explain why he would oppose the nascent Wisconsin recount if illegal voting was such a serious problem.
No election observers have pointed to any such widespread fraud.