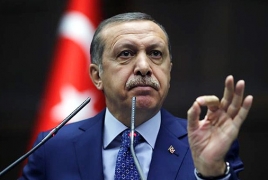 November 30, 2016 - 12:07 AMT
PanARMENIAN.Net - The Turkish military launched its operations in Syria to end the rule of Syrian President Bashar al-Assad, President Recep Tayyip Erdogan said Tuesday, November 29, according to Hurriyet Daily News.
"In my estimation, nearly 1 million people have died in Syria. These deaths are still continuing amogn children, women and men. Where is the United Nations? What is it doing? Is it in Iraq? No. We preached patience but could not endure in the end and had to enter Syria together with the Free Syrian Army [FSA]," Erdogan said at the first Inter-Parliamentary Jerusalem Platform Symposium in Istanbul.
"Why did we enter? We do not have an eye on Syrian soil. The task is to provide lands to their real owners. That is to say we are there for the establishment of justice. We entered there to end the rule of the tyrant al-Assad who terrorizes with state terror. [We didn't enter] for any other reason," the president said.
On August 24, the Turkish Armed Forces launched an operation in Syria, the Euphrates Shield operation, with FSA fighters to ostensibly clear the country's southern border of both the Islamic State group (IS) and the Syrian Kurdish Democratic Union Party (PYD) forces, which Ankara considers as a terrorist group linked to the outlawed Kurdistan Workers' Party (PKK).
Last week, a total of six Turkish troops, of them four in a suspected Syrian government attack, and two in IS attacks, were killed in three separate attacks from November 24 to 26.