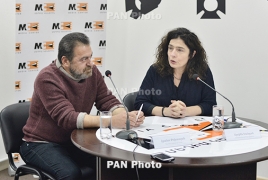 December 5, 2016 - 12:29 AMT
PanARMENIAN.Net - Diaspora Armenians will observe the parliamentary elections in 2017, actress and producer Arsinée Khanjian told reporters. According to her, thousands of Diaspora-based Armenians have signed the Justice Within Armenia petition, Panorama.am says.
Frontman of the rock band System of a Down Serj Tankian and a number of prominent Diaspora-based Armenian cultural and social figures launched the petition Justice Within Armenia on Change.org on the 25th anniversary of Armenia's independence. "Justice Within Armenia is a coalition of concerned Armenians around the world who believe in standing in solidarity with the people of Armenia and being present as eyewitnesses and monitoring free and fair elections while actively engaging with the Armenian populace in contributing to the present and future of our nation," Tankian said earlier.
Khanjyan said several groups both in Armenia and the Diaspora have already started working on the implementation of the program, while applications arrive from around the globe.
Those involved in the project will be provided with necessary knowledge to best carry out the monitoring, she said, adding that a special program will coordinate their activities in Armenia.
"Economic indices, the overall political environment, human rights crackdown and migration become increasingly alarming in Armenia," Khanjyan said.