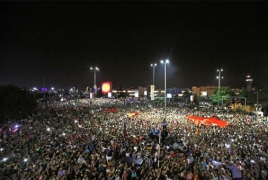 December 5, 2016 - 16:33 AMT
PanARMENIAN.Net - Turkey has turned on U.S. Protestants in its post-coup crackdown, analysts have warned, according to the Christian Today.
President Recep Tayyip Erdogan has targeted American Christians in retaliation over the White House's refusal to comply with Turkey's demands and extradite cleric Fethullah Gülen. The Pennsylanvia-based preacher was a former ally but the Turkish President has now blamed him for the failed uprising in July.
Erdogan has unleashed a backlash against perceived opponents in response to the coup, using it as a basis to arrest tens of thousands of Turkish citizens and fire many more from public sector jobs.
Now researchers have warned his focus has turned on American Christians.
"Protestant or Christian churches are seen as an American influence, and now that Turkey is anti-American they are being targeted even more," said Aykan Erdemir, a senior fellow with the Foundation for Defense of Democracies and a former member of the Turkish parliament, according to RNS.
Erdemir was speaking after U.S. pastor and long-term Turkish resident Ryan Keating was detained at Istanbul airport while trying to re-enter after a short trip out of the country.
Keating was told he could never come back. No reason was given and there was no evidence. He was held in a cell overnight at Istanbul airport and interrogated by anti-terror police. Then he was told he was a threat to national security and forced aboard the next plane out the country.
Turkey's constitution is technically secular but 99 per cent of the population is Muslim. The rights of minorities are severely limited according to the U.S. State Department's religious freedom report.