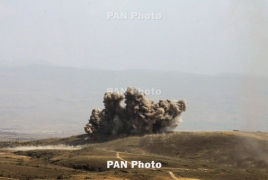 December 17, 2016 - 13:25 AMT
PanARMENIAN.Net - Israel tops the list of countries that are most likely to trigger World War Three, a report by Control Risks said, according to The Express.
Britain voting to leave the EU, the election of Donald Trump as the US President and the wave of Islamic terror attacks, has resulted in economic uncertainty, the report said. And with relations between certain countries reaching new tensions, "World War Three could be looking more likely than ever."
At the top of the list is Israel, whose tensions with Iran are high, particularly regarding the weapons deal with the US. There are also tensions with Syria, and if it launches an attack on either of these countries - chances are not only that all the Muslim countries will pull together, but also that superpowers such as the US and Russia will also get involved.
The United States is next in the list: since Donald Trump has been elected as the next President of the US sparks have been flying - especially between the US and countries in the Middle East. Experts predict that Trump will shake up the US defence and foreign policies when he enters the White House and the implications of this could have severe global consequences.
Iran is another country that can trigger WWIII. The Iranian defence minister recently vowed World War Three was looming following Trump's victory in the US elections.
Syria is in political turmoil and the situation is getting worse each day. The country also has nuclear weapons - something the government there is less likely to be able to protect given the current climate.
In addition, the reports says Russia, China and North Korea, as well as Turkey, Egypt and Pakistan are also viewed as threats to starting World War Three.