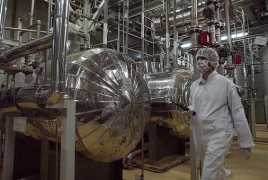 January 9, 2017 - 18:01 AMT
PanARMENIAN.Net - Two senior diplomats say that the six world powers that negotiated a nuclear deal with Iran have approved a large shipment of natural uranium to the country as compensation after Tehran exported tons of heavy water, The Associated Press reports.
The diplomats say that the agreement foresees delivery of 116 metric tons (nearly 130 tons) of natural uranium from Russia. They demanded anonymity Monday, January 9 because their information is confidential.
Uranium can be enriched to levels ranging from reactor fuel to the core of an atomic bomb. Iran says it has no interest in such weapons, and is expected to use the shipment for peaceful enrichment permitted under the nuclear deal.
Heavy water is used to cool reactors that can produce large amounts of plutonium — like enriched uranium, a potential pathway to nuclear arms.