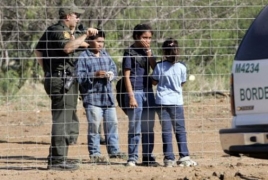 January 12, 2017 - 11:32 AMT
PanARMENIAN.Net - While Donald Trump is still days away from becoming US president, Mexico is already gearing for tough negotiations, refusing to pay for a border wall while rejecting protectionist threats, AFP reports.
President Enrique Pena Nieto and Trump gave a glimpse of things to come on Wednesday, January 11 as the neighboring countries face a new and complex era in their relationship.
Pena Nieto said his government will seek "open and complete negotiations" with the next US government and that "everything is on the table," including security, immigration and trade.
But, he said, "at no time will we accept anything that goes against our dignity as a country, and our dignity as Mexicans."
Drawing applause at an annual meeting with Mexican ambassadors, Pena Nieto continued: "It is obvious that we have some differences with the next government of the United States, like the issue of the wall that Mexico of course will not pay for."
Trump -- who has angered Mexicans by calling migrants from their country "rapists" -- boasted at a news conference hours earlier in New York that Mexico has been "so nice" to him.
But the Republican billionaire said his administration will quickly begin work on the wall and make Mexico reimburse the United States through a tax or another unspecified form of payment.
"I could wait about a year and a half until we finish our negotiations with Mexico, which we'll start immediately after we get to office, but I don't want to wait," Trump said.
The cost of building a wall -- which might end up being more fence than wall, analysts say -- has been estimated at up to $25 billion.
While the Republican billionaire did not mention his previous threat to tap into the remittances Mexican migrants send back home, Pena Nieto said he would work to "maintain the free flow of remittances," which reached $24 billion in the first 11 months of 2016.
The Mexican currency plunged to a new record low after Trump's press conference, falling 0.9 percent to trade at 22.20 pesos per dollar.