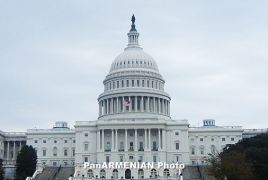 January 12, 2017 - 14:02 AMT
PanARMENIAN.Net - Senate Republicans have taken the first big step toward repealing Obamacare, setting in motion a legislative process that could undo the largest expansion of government in a generation and leave more than 20 million Americans without health insurance, The Huffington Post reports.
In a mostly party-line vote that took place early on Thursday, January 12, the Senate passed a special budget resolution that instructs committees to write legislation stripping the health care law of its funding and spending provisions, effectively ending Obamacare's coverage expansion.
Budget resolutions don't need presidential signatures, since they are basically internal congressional messages to committees. But they still require approval from both chambers, which means this one still needs a yes vote from the House.
That is likely, though not quite certain, to happen within the next few days.
Passing this resolution is a critical first step in rescinding Obamacare because it would allow Congress to consider legislation through the budget "reconciliation" process, with its special rules that make it impossible for Democrats to block action in the Senate by wielding the filibuster.
That means Republicans could pass legislation even with their small, 52-seat majority in the Senate, and then send the final bill to President-elect Donald Trump. The incoming president reiterated during a Wednesday press conference his belief that "Obamacare is a complete and total disaster" because of rising premiums and declining insurance options for people buying their own coverage in some parts of the country.
The Senate vote was 51 to 48, with only Sen. Rand Paul (R-Ky.) breaking ranks with his party to vote against the resolution. And it took place with relatively little legislative drama ― despite rumblings, from earlier in the week by a dozen Republican senators anxious about the prospect of voting to repeal the health care law without prior agreement on what would take its place.
One of the senators making those arguments was Sen. Bob Corker (R-Tenn.), who introduced an amendment on Tuesday that stipulated the committees would have until March to finish their work. He withdrew the amendment before Thursday's vote.
But Corker said he had assurances that the committees could take time to craft a replacement, according to Politico. And throughout the day, Republicans were still raising questions about a hasty repeal effort ― chief among them, what would happen to the more than 20 million people who now get insurance because of Obamacare?
GOP leaders have tried to assure these members by promising an "orderly transition" of two or three years, during which elements of Obamacare would remain in place so that people currently insured would keep their coverage.
But lawmakers including Sen. Lamar Alexander (R-Tenn.), who is chairman of the Health, Education, Labor and Pensions Committee, have indicated they want to see the plans ― both for the transition and afterward ― before voting on a repeal.