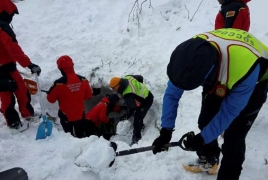 January 23, 2017 - 10:43 AMT
PanARMENIAN.Net - Survivors of Italy's avalanche disaster on Sunday, January 22 recounted how they ate snow to stay hydrated and sung to keep their spirits up while huddling in pitch black, cramped cavities in the mangled wreckage of the Hotel Rigopiano, AFP reports.
Their traumatic tales emerged as rescuers said they hoped to find some of the 23 people still unaccounted for, more than 48 hours after they last detected signs of life in the icy ruins.
"Even if there are no signs of life, you could drill through a wall and suddenly there'd be contact. That's what happened with the other survivors," said firefighters spokesman Luca Cari.
A Senegalese man who worked at the hotel was added to the list of missing after a statement by one of the survivors. He had not been staff lists and no friends or family had reported him as missing.
The avalanche hit the hotel at dusk Wednesday with a force police have calculated as the equivalent of 4,000 fully-loaded articulated lorries hurtling down a steep slope at 100 kilometres (60 miles) per hour.
Four days later, rescue teams were working round the clock with only two-hour rest breaks to ensure the first responders most familiar with the layout maximise their time on site.
The risk of another avalanche remained high, as snow and fog continued to hamper the rescue effort in the mountains of central Italy.
The survivors extracted so far, five adults and four children, were trapped for 40 hours before rescuers made contact.
As well as the nine pulled out, there were two survivors who were outside the hotel when the avalanche struck. Six bodies had been found by Sunday evening, including both parents of one of the boy survivors.
The disaster followed powerful earthquakes in the region earlier Wednesday combined with snowfalls not seen in half a century.