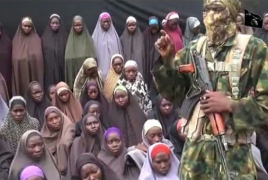 January 24, 2017 - 17:20 AMT
PanARMENIAN.Net - A female suicide bomber who attacked a town in northeast Nigeria earlier this month was carrying a baby at the time, the country's main relief agency said on Tuesday, January 24, according to AFP.
But the National Emergency Management Agency (NEMA) said it was unclear whether this was a new tactic on the part of Boko Haram Islamists to allow would-be bombers to evade detection.
"From the report we got after the Madagali attack (on January 13), one of the female suicide bombers had a baby strapped to her back," said the NEMA coordinator for Adamawa state, Saad Bello.
"However it is not clear whether it was a coincidence or a strategy they employed to avoid detection by security personnel.
"This was one isolated case and it will be premature to arrive at a definite conclusion that the use of babies in suicide attacks has become a trend."
At least two people were killed and 15 others injured in the explosions in Madagali at a checkpoint manned by local hunters, at a military post and a bus station.
Police said four female bombers were responsible while the state government blamed Boko Haram, which has frequently targeted Madagali, including in December, when some 45 people were killed.
Boko Haram, which has been fighting to create a hardline Islamic state in northeast Nigeria since 2009, began using suicide bombers in mid-2014.