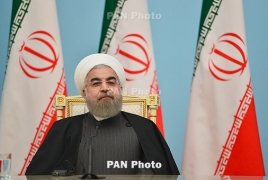 January 25, 2017 - 16:29 AMT
PanARMENIAN.Net - Iranian President Hassan Rouhani is losing some public support ahead of a May election, according to a new opinion poll, potentially signaling a shift toward his hard-line opponents within the ruling clerical establishment following the country's historic nuclear deal, The Wall Street Journal reports.
The survey results paint a picture of an Iranian public wary of the trust Rouhani placed in the U.S. and other world powers when his administration negotiated the deal, and skeptical about the economic benefits they thought it would bring.
Conducted in December for the University of Maryland, the survey is based on telephone interviews with 1,000 Iranians and provides a gauge of public opinion in a country where independent polling is rare.
Some 69% of Iranians surveyed said they viewed Rouhani either very favorably or somewhat favorably. That represents a significant decline from the roughly 82% who saw him very favorably or somewhat favorably in a June poll from the university. The share of respondents who view him very favorably has fallen steadily from 61% in August 2015 to 28% in the new poll.
About 51% said the country's economic conditions were worsening, up from 43% in June. Almost three-quarters of the Iranians surveyed said the deal hadn't improved people's living conditions.
Yet, Rouhani has maintained considerable popularity in part because he has successfully cast himself in a different mold from his predecessor, hard-line President Mahmoud Ahmadinejad.
"People are emotional," said Ali Pakzad, the editor in chief of Asr Eqtesad, an economic newspaper. "They remember the experience of 40%-plus inflation and the economic crisis of 2009 that dragged into 2013. They are critical of Rouhani, but if they see any approach similar to Ahmadinejad's, they will turn back on it."
IranPoll is a subsidiary of People Analytics, which specializes in polling in countries where it is challenging to operate. IranPoll has conducted polls of Iranians since 2006.
The latest poll has a margin of error of 3.2%.
Rouhani won the presidency in 2013 on a platform of improving economic fortunes by opening the country to the world after an eight-year financial decline under Ahmadinejad. Around the time Rouhani took office, the value of Iran's currency had fallen sharply, and inflation had been skyrocketing at above a 40% annual clip.