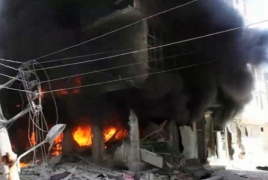 February 17, 2017 - 18:19 AMT
PanARMENIAN.Net - Turkey's military said on Friday, February 17 it was close to taking Syria's al-Bab from Islamic State, but a war monitor said the jihadists still controlled 90 percent of the town itself and that shelling and air strikes had killed dozens of civilians in recent days, Reuters reports.
Al-Bab, an Islamic State stronghold 30 km (20 miles) from the Turkish border, has been a prime target since Turkey launched an incursion last August to push the jihadists from its frontier and prevent gains by a Kurdish militia also fighting them.
Taking control of the town would deepen Turkish influence in an area of Syria where it has already effectively created a buffer zone and allow Turkish forces to press on towards Raqqa, Islamic State's de facto capital in Syria.
"The operation to gain complete control of the al-Bab region has neared its end and the resistance of the Daesh terror group has largely been broken," the Turkish military statement said, using an Arabic acronym for Islamic State.
However, the Syrian Observatory for Human Rights, a British-based organization that monitors the war using a network of contacts, said Turkey's "Euphrates Shield" forces had not made much progress.
Islamic State still controls 90 percent of al-Bab town itself and Turkish shelling and air strikes had killed 45 civilians, including 18 children, during the past 48 hours, the Observatory said.
Turkish officials have repeatedly said that the al-Bab operation was taking longer than anticipated because of numbers of civilians still in the town and the care being taken not to harm them. It dropped leaflets on the town as long ago as December urging civilians to seek shelter.
Turkey believes a string of Islamic State gun and bomb attacks, including a mass shooting at an Istanbul nightclub on New Year's Eve, were planned from al-Bab and Raqqa, and has said clearing the town of militants is a national security priority.