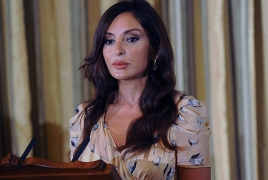 February 21, 2017 - 13:25 AMT
PanARMENIAN.Net - Azerbaijani President Ilham Aliyev has appointed his wife, Mehriban, as the country's First Vice-President, RIA Novosti reports.
Aliyev on Tuesday, February 21 named his wife to the position created after a constitutional referendum in September. She has served as a lawmaker and headed a charity in the past.
Under the new constitution, the First Vice-President assumes the head of state's duties in case the president is unable to perform his commitments.
The political position of a Secretary of State existed in Azerbaijan from 1991 to 1994. The last holder of the position, Professor Lala Shevket said in an interview in the 90s that "our Secretary of State is actually more like a Vice-President."
"However, according to the Constitution if something should happen to the President, God forbid, the Head of the Parliament would take the President's place - not the State Secretary," she said then.