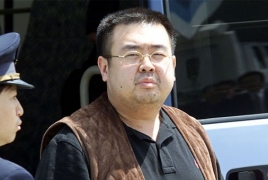 February 24, 2017 - 10:53 AMT
PanARMENIAN.Net - North Korean leader Kim Jong-Un's half brother was assassinated with a lethal nerve agent manufactured for chemical warfare, Malaysian police said on Friday, February 24, according to AFP.
Releasing a preliminary toxicology report on Kim Jong-Nam's murder at a Kuala Lumpur airport, police said the poison used by the assassins was the odourless, tasteless and highly toxic nerve agent VX.
Traces of VX -- listed as a weapon of mass destruction by the United Nations -- were detected on swabs of the dead man's face and eyes.
Leaked CCTV footage from the brazen attack on February 13 shows the portly Kim being approached by two women who appear to put something in his face.
Moments later he is seen asking for help from airport staff, who direct him to a clinic.
Malaysian police said he suffered a seizure and died before he reached hospital.
The national police chief said Friday detectives would look for the source of the deadly VX.
"We are investigating how it entered the country," Khalid Abu Bakar said.
"The chemical is illegal. It is a chemical weapon."
However he added that "if the amount of the chemical brought in was small, it would be difficult for us to detect".
A leading regional security expert told AFP it would not have been difficult to smuggle VX in a diplomatic pouch, which are not subject to regular customs checks.
North Korea has previously used the pouches "to smuggle items including contraband and items that would be subjected to scrutiny if regular travel channels were used", said Rohan Gunaratna, the head of the Singapore-based International Centre for Political Violence and Terrorism Research.
He added North Korea has manufactured VX in the past.
"The North Korea intelligence service has been very active in Thailand, Malaysia and in Indonesia and today pose a threat to the region," Gunaratna said.