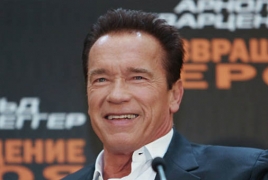 March 10, 2017 - 11:49 AMT
PanARMENIAN.Net - Arnold Schwarzenegger might be thinking about returning to office, according to a new report.
As The Hollywood Reporter said citing Politico, the former California governor's possible 2018 U.S. Senate run is gaining buzz in Washington. A Schwarzenegger spokesman, Daniel Ketchell, responded to the rumors, telling Politico, "Right now Gov. Schwarzenegger's focus is on using his platform to bring some sensibility and coherency to Washington by fighting for redistricting reform, like we did in California. We are keeping all of our options open as far as how we can accomplish that."
According to Politico, the former California governor, who ran and won as a Republican, is considering running as an independent, and his political views differ widely from that of current Republican President Donald Trump.
Recently, Schwarzenegger clashed with Trump on Twitter over the NBC reality competition series The Celebrity Apprentice, which Schwarzenegger took over hosting.
Ratings for the program were low, prompting Schwarzenegger to leave the production that Trump once headlined, citing its "baggage."
Trump, in response, tweeted, "Arnold Schwarzenegger isn't voluntarily leaving the Apprentice, he was fired by his bad (pathetic) ratings, not by me. Sad end to great show."
Schwarzenegger responded in kind during an appearance on SiriusXM's The Michael Smerconish Program, where he said, "I think he's in love with me."
A request for comment from Schwarzenegger's reps was not immediately returned.