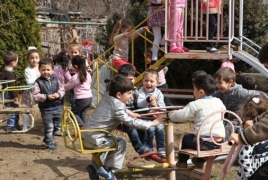 March 10, 2017 - 13:01 AMT
PanARMENIAN.Net - Border villages and communities of Armenia are always in the center of attention of the Foundation for the Preservation of Wildlife and Cultural Assets and VivaCell-MTS. The Alternative Energy project, jointly implemented by both companies, allows to significantly reduce utility costs of communities and residents and liven up the social life in villages.
The community of Mosesgegh also benefited from the project when a solar water heater system was launched in its kindergarten.
VivaCell-MTS allocated funds for the reconstruction of the community's heavily damaged kindergarten back in 2008. In order to help reduce community spending, the existing heating system has been equipped with a 33kW and 400 liter heat exchanger tank and a solar water heater system.
The launch of the water supply system was attended by General Manager of VivaCell-MTS Ralph Yirikian, Founder of FPWC Ruben Khachatryan, Mosesgegh community head Ludvig Aperyan, as well as the residents.
"Exploitation of solar water heaters is beneficial in more than one way. Firstly, it is a solution applicable in regions with various climate and natural conditions. Further, water heaters help communities reduce expenses. It is a win-win option for the nature, the community and ordinary citizens. I have to underline that our projects are based on corporate social responsibility, a strategy we adopted 11 years ago, confident that other organizations will pick it as a role model. We see today that this strategy has been adopted by many, which makes us really happy," said Yirikian.
Mosesgegh was founded in late 18th century (in 1780). The first residents came here from Artsakh (Nagorno Karabakh). Legend has it, the name of the village derives from name of Movses, a villager once known for exceptional bravery.
Nowadays, Mosesgegh has about 2000 residents, mostly engaged in animal husbandry, viticulture and cultivation of fruit and vegetables.
Mosesgegh houses a secondary school, a cultural center, a library and a kindergarten.
The system will provide year-round supply of hot water exclusively through the solar heater, set to reduce expenses by up to 40%.