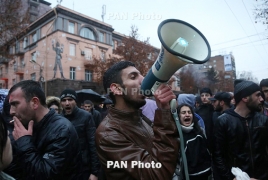 March 17, 2017 - 14:35 AMT
PanARMENIAN.Net - After the death of Armenian activist Artur Sargsyan, the Ohanyan-Raffi-Oskanian (ORO), Tsarukyan and Armenian National Congress - People's Party of Armenia (ANC-PPA) blocs announced that they will suspend their election campaigns on Friday, March 17.
Sargsyan, who was being referred to by many as "the bringer of bread," died on Thursday. He was staging a hunger strike for as many as 25 days before being released from prison on March 6. He was arrested in August 2016 and released in December for taking food to members of the armed Sasna Tsrer group who had seized a Yerevan police station. Then he was arrested again in February, 2017.
Sasna Tsrer (Daredevils of Sassoun) stormed a Yerevan police patrol department in mid-July and took everyone inside hostage. Throughout the following days, the group released the captives one by one. After negotiations that lasted for a little over two weeks, the gunmen agreed to surrender to law enforcement bodies. Three police officers were killed during this period.
In a statement, ORO alliance said that Sargsyan's self-sacrifice should not and cannot remain unpunished, but instead "motivate all of us to unite and struggle jointly."
Leader of Tsarukyan bloc Gagik Tsarukyan said, in turn, that they deeply mourn Sargsyan's death and have decided to stop the campaign late Thursday and Friday.
In a statement of their own, ANC-PPA condemned the violations of human rights and the Criminal Procedure Code by authorities in charge, requiring to disclose all the circumstances that caused the death and prosecute perpetrators.
Various political figures have also addressed Sargsyan's death.
A spokesman for the ruling Republican Party, Eduard Sharmazanov expressed condolences over the incident, adding that "it is unacceptable to speculate Sargsyan's death in the pre-election period."
According to him, some have even tried to turn the tragedy into "election passions" or win dividends.
Prime minister Karen Karapetyan said, in turn, he is "grieved over what has happened."
Also, former PM Hovik Abrahamyan, lawmaker, candidate from YELQ bloc Edmon Marukyan, head of RPA faction Vahram Baghdasaryan have expressed condolences over Sargsyan's death.
The Armenian Investigation Committee has already launched a probe into the incident. Relatives of Sargsyan and specialists chosen by them will be allowed to be present during the forensic examination.